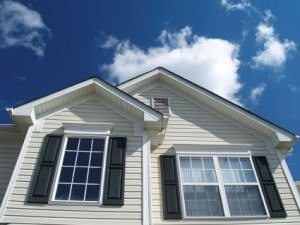 Your building's roof serves a tremendously valuable purpose. It provides your family and property protection from the elements such as the sun, rain, snow and hail. It also contributes greatly to your home's exterior design. There are many roof types that your home may have; asphalt shingles, wood shake, tile and more. No matter what makes up your roof, however, its constant exposure to the elements will inevitably cause dirt, dust, grime, mildew and mold to accumulate.
These Contaminants Can Destroy Your Roof
Leaving your roof riddled with these impurities can have disastrous results for your house and your wallet. Over time, the integrity of your roof will be compromised if you leave it dirty and stained. That is because these conditions attract the growth of mold, mildew and other biological invaders that feed on the materials your roof is made of. An improperly maintained roof will shorten its life span by several years. That means you could have to pay more money to completely replace your roof.
Hiring a professional Alexandria Softwash company to handle your roof cleaning now could ultimately save you more money in the future.
Insurance Coverage Loss
Your Alexandria home is more than likely the most expensive item that you own. Your homeowner's insurance is there to protect you and assets in the event of a disaster. However, there are several insurance companies who will discontinue your entire insurance policy simply because your roof has not been properly maintained. Cleaning your roof could save you a lot of time and stress in the future.
When it comes to a newly installed roof, most of them are covered under a roofing warranty. This is great to have in case of an accident or improper installation. Unfortunately, it does nothing to help you keep your roof clean. Most roofing warranties come with strict guidelines that must be followed to ensure your warranty isn't voided.
In the event that a power washing system is used on a roof top, most roofing companies will null your warranty due to damage done by the high powered pressure washer. It is crucial to hire a certified Alexandria roof cleaning company to make sure that your roof is properly cleaned without the risk of losing your warranty.
The Power of Softwash
In the professional roofing industry, it is a well known fact that soft washing is the best solution for cleaning a roof top. Unfortunately, that doesn't mean all Alexandria roof cleaning contractors follow these standards.
Softwash is a unique form of power washing since it does not involve using a high pressured power washer. Soft washing is the act of using a bio-degradable, eco-friendly solution to clean your roof top and your home's exterior. This solution sinks into the cracks and pores of your house and destroys dirt, mold and mildew at the core without damaging your roof. The solution can then be rinsed gently with water. This process ensures the safety of your roof, but it deeply and thoroughly cleans it as well.