Stucco Cleaning
100% Customer Satisfaction Guarantee!

Free Estimates

15+ Years of Industry Experience

Competitive Pricing

Friendly & Efficient Service
GET A FREE ESTIMATE
Soft Washing

Power Washing

Deep Cleansing
Do you own a stucco home? Not only does this siding make your home look beautiful, it's also inexpensive and resistant to fungus and rot. This material is a powerhouse that can withstand extreme weather conditions like storm force winds, rain, snow, and even hail! But its textured surface is also its achilles heel.
Over time, you've probably noticed that the creases in the material hold onto dirt and dust that then becomes baked by the sun. The material might darken or begin to look dull. So what's a homeowner to do? Call the Smart Wash team for the best cleaning service in Alexandria!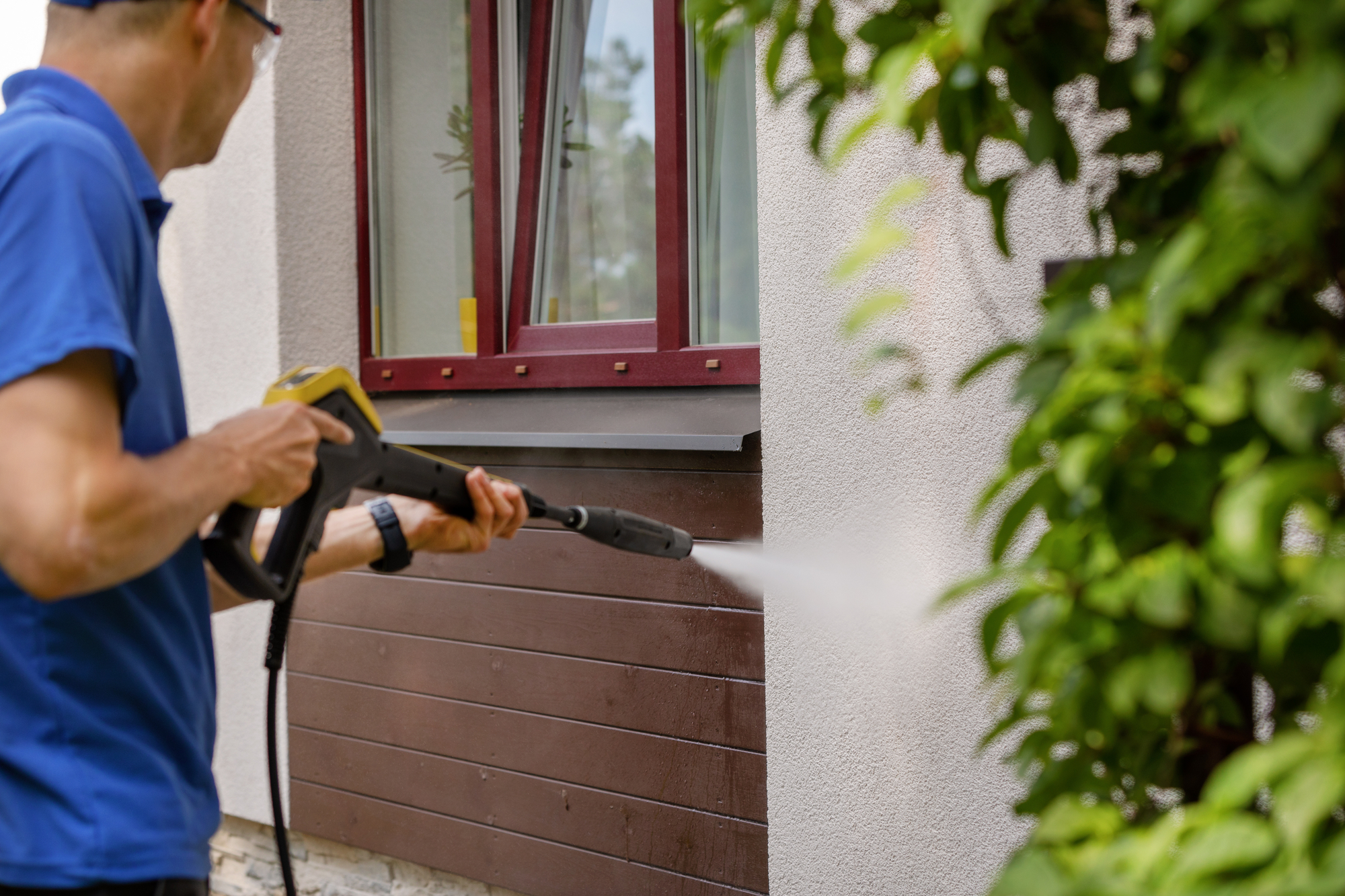 At Smart Wash, we know that every house is different and needs specialized care. That's why we hand mix our cleaning solutions and use a combination of power washing and soft washing techniques to get the job done right. So if you want stucco maintenance experts who cater their methods to the specific needs of your home, then call us today!
Stucco: Durable Yet Delicate
This is a very hard and durable substance and has a fairly long lifespan. While it can withstand storm force winds, rain, snow and hail, using too much pressure from a pressure washer can damage it. That is why cleaning stucco should be performed by professionals with experience and training.
We have the proper tools to get the job done right. First, we'll mix a cleaning solution made from organic compounds that will safely dissolve the dirt and grime from the surface. Then, by using just enough water pressure we will effectively rinse the surface clean. This will provide a deep cleanse so that the stucco shines. Your exterior will look as good as the day it was installed.
The reason our methods are so effective is because we use a combination of techniques. Rather than simply take a power washer on full blast to your Stucco, we control the pressure based on the material. The goal is that we still want to get deep into the porous material but not damage it. By using a hand mixed cleaning solution we can ensure that the chemicals we're using are exactly right for the job.
When you need your home cleaned, Smart Wash does the most effective and efficient job in Alexandria.
4 Benefits of Stucco Washing
Boosts Curb Appeal
Regular maintenance can dramatically increase the curb appeal of your property. It transforms your property and restores it to its original new-like condition. Give us a call and we'll get you started with your free, no-obligation estimate.
Avoids Repairs
Routine cleaning is the perfect preventative measure against early repairs. Minor issues can become major headaches down the road. Give us a call and we will help keep your property in good, lasting condition for years. Save money and hire the pros to take care of your home maintenance needs.
Saves Time
You likely have several tasks on your to-do list. Not only does professional maintenance save you money but it saves you time as well. This job may sound simple but it requires the proper equipment, experience, and training to do it right and avoid damage. Let us take care of this for you so you can focus on other important tasks.
Protects Your Health
Keeping the exterior of your home clean goes a long way in protecting the health of you and your family. Eliminate mold and mildew from your property and remove harmful substances and bacteria that can be tracked into your home or contaminate the air.
Why Hire Smart Wash?
Many homeowners in Alexandria love DIY projects! And for many things, doing it yourself is a great idea. But that's not the case with pressure washing. Why not? In untrained hands, a power washer can become a weapon that destroys your home instead of a tool to restore it. Using too much power can cause several years worth of damage to many of the more delicate surfaces of your house. That could cause some expensive repairs. And without experience using these tools, you could be risking your safety! 
The solution? Call Smart Wash of Alexandria, VA! We have the tools, training, and experience to get the job done right. And you won't have to let this project eat into your free time.
Brick

Concrete

Decks

Houses
Roofs

Churches

Restaurants

Power Washing

Soft Washing

Hospitality Cleaning

Hanging Christmas Lights