Brick Cleaning
100% Customer Satisfaction Guarantee!

Free Estimates

15+ Years of Industry Experience

Competitive Pricing

Friendly & Efficient Service
GET A FREE ESTIMATE
The Best Way to Clean Brick Surfaces
Do you own a brick home or business? Have you ever wondered if there's a way to clean and restore these surfaces so that they look like new again? You'll be happy to know that there definitely is! So how does the Smart Wash team breathe new life into your worn out building?
Step 1: Patch
The first step is to patch up any damaged mortar joints and then wait seven days for these to set. This preparation is important because otherwise water will soak into these gaps. And before you know it, you'll have a mold problem inside your walls!
Step 2: Wet the Surface
Completely soak the surface. Though it might seem a little backwards, we move the pressure washing wand in a bottom to top motion (instead of top to bottom). Why? Because this cuts back on random uneven streams of water and results in a more even soaking of your walls.
Step 3: Apply Cleaning Solvent
With the wide variety of detergents available, it's important to use one specifically designed for brickwork. The wrong solution will make grime stick to the surface instead of keeping it off.
Step 4: Gently Rinse
After letting the detergent sit, gently rinse the wall with low-pressure water to remove dirt, grime and any detergent residue that's still clinging to the surface.
Step 4: Apply Sealant
When the wall is completely dry, it's time to apply your sealant. Just like waxing your car, this step will ensure that the surface stays clean and protected for much longer.
4 Benefits of Washing Brickwork
Increases Curb Appeal
Over time, the wear and tear of age and weather can cause your building to look dirty and dull. Pressure washing can make your home or business look new again!
Prevents Repairs
A build up of mold, algae, dirt, and grime doesn't just look bad! When contaminants are allowed to sit on a brick surface for years, they can damage your walls. And the cost of repairs can quickly add up.
Removes Graffiti
A tagged building can make a business look unprofessional. The Smart Wash team can remove all evidence of graffiti and restore your commercial property to its former glory.
Protects Health
Does your family suffer from allergies? Then this preventative maintenance is especially beneficial. It'll wash away pollen, mildew, and all elements that can cause labored breathing and other allergic reactions.
Our Brick Cleaning Services in Alexandria
Why do so many entrust the Smart Wash team with brick cleaning Alexandria homes and businesses? Because we know the secret ingredient to washing brickwork the right way – Soft Washing. Blasting your wall with the full might of a pressure washer will damage the surface. You might even see bits of mortar crumbling and breaking away from the wall!
Soft washing is so gentle that it won't damage your building and it'll get the job done right! The process is kind of like brushing your teeth. First you apply toothpaste to loosen unwanted particles clinging to your teeth. Then you gently rinse your mouth out with water. You don't need a lot of power in your rinsing because the toothpaste already did most of the hard work.
Our environmentally friendly cleaning solution does most of the heavy lifting when it comes to removing dirt, grime, and other contaminants from brick surfaces. And then the low-pressure water (similar to the pressure that comes out of your garden hose) is able to sluff it all off.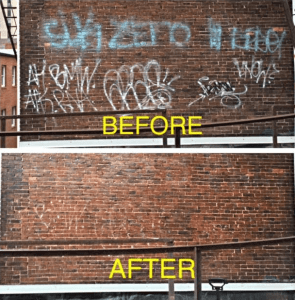 Do you need brick cleaning services in Alexandria? Give us a call. We'd be happy to help!
Why Hire a Professional?
Many homeowners in Alexandria love DIY projects! And for many things, doing it yourself is a great idea. But that's not the case with pressure washing. Why not? In untrained hands, a power washer can become a weapon that destroys your home instead of a tool to restore it. Using too much power can cause several years worth of damage to many of the more delicate surfaces of your house such as your roof, siding, and deck. That could cause some expensive repairs. And without experience using these tools, you could be risking your safety! 
The solution? Call Smart Wash of Alexandria, VA! We have the tools, training, and experience to get the job done right. And you won't have to let this project eat into your free time.
Cleaning Services We Provide
Brick

Concrete

Decks

Houses

Roofs

Churches

Restaurants

Construction Site Clean Up

Power Washing

Soft Washing

Hospitality Cleaning