100% Satisfaction Guaranteed

Free Estimates

15+ Years of Industry Experience

Competitive Pricing

Friendly & Efficient Service
Call
(703) 595-4000
Contact Us for a Free Estimate!
Check Out What Our Customers Say
Google Business Reviews 5.0 
The Best Power Washing Service in Alexandria, VA
"Power wash job turned out fantastic. Driveway and patio cleaned so well it resembles a sandbox. They even cleaned my plastic patio chairs. Thank you Smart Wash. I can now throw parties with pride all summer long!"
Janine P.
Power Washing Service
House Wash in Alexandria, VA
"After little research decide to hire Smart wash based on reviews. Smart wash was fantastic.
John and team were prompt and did a fantastic job. I had pressure washed the house every year but the sides of the house facing North were showing usual signs of mold and mildew.
After they finished cleaning and treating, the house looks brand new and cost was extremely reasonable."
Mike C.
Exterior House Washing Company
Quality Pressure Washing Company in Alexandria
"Brian and his crew at Smart Wash were outstanding! They were professional, friendly, and highly skilled. Our house looks brand new! They took the utmost care treating our home like it was their own. We are extremely pleased and will use them again in the future."
Nicole P.
Professional & Friendly Service
Pressure Washing Service in Alexandria, VA
For over 15 years, Smart Wash of Alexandria has been cleaning homes and businesses throughout Northern Virginia and parts of Southern Maryland. If you're looking for quality service at affordable rates, give us a call and we'll provide a free estimate.
Don't just hire anybody to take care of your exterior property maintenance needs; hire a company with a proven track record of customer satisfaction and quality care. 
Whether we are blasting away dirt and grime from your driveway or getting your windows sparkling clean with our specialized soft wash system, we guarantee a job well done. Our team services the following areas:
Alexandria

Annandale

Arlington

Burke

Fairfax

Falls Church

Great Falls

McLean

Reston

Springfield

Bethesda, MD

Potomac, MD

Washington, D.C.
Home Exterior Cleaning Services in Alexandria, Springfield, Burke, Annandale & Arlington, VA
The professionals at Smart Wash know how to get your property's exterior clean no matter what technique it requires. We are fully trained and experienced in pressure and soft washing, roof cleaning, deck cleaning, and many more exterior maintenance jobs. Our team can help you keep your house looking fresh and new.
Plus, what you don't see can hurt you! Our proven cleaning solutions will keep your property looking great, extend the life of your home's exterior, and protect your health by keeping harmful bacteria and mold growth away. Call us today to see how we can help your home shine again!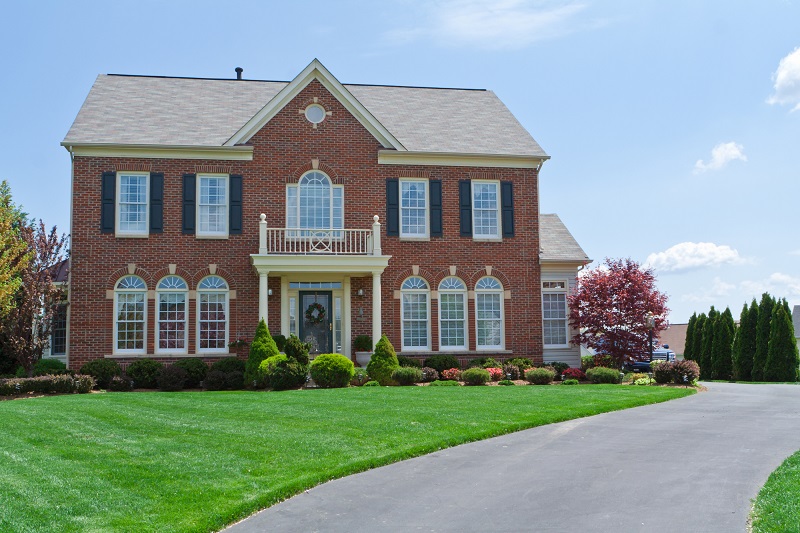 Power Washing Company in Alexandria
The exterior of your home is continuously hounded by the elements. The wind and rain pack on layer after layer of dirt and debris. Often, a good solid cleaning is all you need to bring back the luster and restore exterior home surfaces to like-new condition. 
At Smart Wash, we do not cut corners. When it comes to exterior maintenance, it's all about the details. We do the job right the first time and help keep your property in pristine condition. We provide pressure and soft wash solutions for the following:
What is Soft Washing?
Pressure washing is effective at removing tough stains and contaminants from surfaces, but it can severely damage certain materials, leaving you with expensive repairs and bigger problems than what you started with. What is the alternative? Soft washing!
How it Works
Soft washing gently cleans surfaces with a psi level of 500 or lower, similar to that of a normal garden hose. Although it is the gentler exterior maintenance approach, don't let it deceive you. Instead of blasting away mold, dirt, and stains with high water pressure, this method relies on powerful detergents designed to break down and effectively eliminate contaminants. So, what is this technique good for?
Rooftops

Windows & Window Sills

Paver Walkways & Driveways

Wood Decks & Patios

Outdoor Wood Furniture

Siding & Soffit
Call
(703) 595-4000
Contact Us for a Free Estimate!
What Are the Benefits of Pressure Washing?
Boosts Curb Appeal
A thorough cleaning can dramatically increase the curb appeal of your property. It transforms your home or business and restores it to its original new-like condition. Give us a call and we'll get you started with your free, no-obligation estimate.
Avoids Repairs
This is the perfect prevention against early repairs. Minor issues can become major headaches down the road. Give us a call and we will help keep your property in good condition. Save money and hire the pros to take care of your home maintenance needs.
Saves Time
You likely have several tasks on your to-do list. Professional power washing saves you time and money. This job may sound simple but it requires the proper equipment, experience, and training to do it right. 
Protects Your Health
Keeping the exterior of your home clean goes a long way in protecting the health of you and your family. Eliminate mold and mildew from your property and remove harmful substances and bacteria that can be tracked into your home or contaminate the air.
Why Use Us?
100% Satisfaction Guarantee
Over the last 15+ years, we have earned a reputation for quality work, and that is proven by our 5-star ratings from over 1,500 customers. We don't stop until you are happy with the results and the job is done to your standards.
Contractors You Can Trust
When you hire contractors to service your home, they should be people you trust. Our team is friendly, courteous, and respectful of you and your property.
We're a Local Business
Northern Virginia is our home, so we do our best to take care of our neighbors in and around the Alexandria area. Every house we service is different, so we provide specialized cleaning depending on your needs. We work hard to take care of the properties in NoVa and keep our community clean.
We Serve Alexandria, Virginia
We are happy to service both residential and commercial properties located throughout NoVa and provide quality pressure washing in Alexandria and nearby cities. Our team is prepared with the equipment and experience for a job well done. We look forward to serving you too! Give us a call today.
Things to Do in Alexandria, VA
Call
(703) 595-4000
Contact Us for a Free Estimate!
We Proudly Serve
Alexandria

Annandale

Arlington

Burke

Fairfax

Falls Church

Great Falls

McLean

Reston

Springfield

Bethesda, MD

Potomac, MD

Washington, D.C.
Smart Wash, LLC
Call: (703) 595-4000