House Washing
100% Customer Satisfaction Guarantee!

Free Estimates

15+ Years of Industry Experience

Competitive Pricing

Friendly & Efficient Service
GET A FREE ESTIMATE
Exterior House Wash Service
The exterior of your Alexandria home is likely as important to you as any other aspect. And why wouldn't it be? Your home's exterior is your outer face for the rest of the world. There is a lot that goes into that. It allows you to show people your tastes and character. It allows you to feel comfortable and happy with the presentation of your home. It shows your commitment to putting your best foot forward in the neighborhood.
One of the most challenging aspects of homeownership can be upkeep with your home's appearance. That is because it is constantly exposed to the harsh elements. Think about it; when it rains or snows and moisture covers your house, then the wind kicks up dust and dirt it will stick to the moisture. Then, when the sun comes out it will bake that dust and dirt onto your home's exterior. Over time, as this keeps happening, layer upon layer of grime with build up, causing your property to become dull and grey. Sometimes moisture gets trapped and mildew or mold will also grow, leaving unsightly streaks and marks.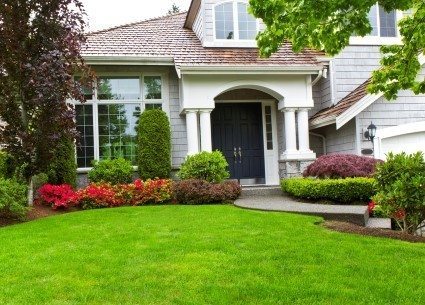 When your home needs a complete wash, Smart Wash are the experts to call. We specialize in exterior cleaning and we have the right tools and experience to get your property in pristine and presentable shape quickly. Our exterior cleaning technicians are professionally trained and get the job done right the first time. The key to our service is that we provide, from the foundation block to the rooftop, a thorough, deep clean without causing damage.
4 Benefits of House Washing
Increases Curb Appeal
Imagine coming home after a long day at work and driving up to your beautiful, squeaky clean home! You do a double-take for a minute because the siding looks brand new. Did you get a fresh coat of paint? No need! Our cleaning service removed all dirt, grime, and stains that were clinging to your siding and restored it to its former glory.
Avoids Expensive Repairs
Your wallet will be happy to know that our house wash service can save you some dough! Instead of shelling out a bunch of money for major repairs a few years from now, you got proactive. You called Smart Wash and scheduled some low-cost preventative maintenance for your home. Now you're just wondering what to do with the extra cash!
Longer Lasting
Twenty years from now, you're sitting out on your deck with a glass of lemonade. And you're so glad you've used the Smart Wash team to maintain your house for all these years. Why? Many of your neighbors have had to replace roofs, siding, and other materials much sooner than they should have. But not you! You get to kick back and relax because our services have extended the life of your home. Smart move!
It Sells!
You're about to put your property on the market. But before you do, you call the Smart Wash team for some exterior cleaning – good thinking! Pressure washing your home can increase its market value by $10,000 to $15,000 dollars! And you'll reel in more potential buyers with a tidy, fresh-looking building instead of a dingy, worn out one.
Why Hire a House Washing Company?
Many homeowners in Alexandria love DIY projects! And for many things, doing it yourself is a great idea. But that's not the case with pressure washing. Why not? In untrained hands, a power washer can become a weapon that destroys your home instead of a tool to restore it. Using too much power can cause several years worth of damage to many of the more delicate surfaces of your house such as your roof, siding, and deck. That could cause some expensive repairs. And without experience using these tools, you could be risking your safety! 
The solution? Call Smart Wash of Alexandria, VA! We have the tools, training, and experience to get the job done right. And you won't have to let this project eat into your free time.
Cleaning Services We Provide
Brick

Concrete

Decks

Houses
Roofs

Churches

Restaurants

Construction Site Clean Up

Soft Washing

Hospitality Cleaning

Hanging Christmas Lights