Christmas Lights Installation
100% Customer Satisfaction Guarantee!

Free Estimates

15+ Years of Industry Experience

Competitive Pricing

Friendly & Efficient Service
GET A FREE ESTIMATE
We Hang Christmas Lights in Alexandria, Virginia!
It's that time of year again! Smart Wash of Alexandria Virginia takes pride in providing Christmas Lights for the holiday season. We take the holidays seriously and we know you do too! These special times are magical when families get together, cookies get made, and the kids are playing. It can also be seriously busy! Spending time with your family is the reason for the season so let us help you get the decorations done so that you and your family can enjoy a wonderful light display that will be memorable for years!
Our clients come to us for a professional, hassle-free experience and enjoy amazing results that give their property that special something from November to January. As a leading holiday decorating and professional Christmas light installation company in Alexandria Virginia, Smart Wash provides our clients with awe inspiring displays and exceptional service that compares to no other.
Call
(443) 528-3152
Contact Us for a Free Estimate!
Full Service Holiday Light Installation
Here at Smart Wash, we provide full service holiday light installation. That's right, we do everything with you from design at the beginning of the season all the way through storage at the end of the season. We don't leave you hanging in the middle wondering what's going to happen during and after you get to enjoy your holiday lights. Leave the entire process up to us so that you can enjoy the holiday season with as little hassle as possible! The holidays are supposed to be enjoyable so let us take some of the work out of it so that you can enjoy your friends and family!
Design
After an initial consultation, our four step process starts with scheduling an appointment with you to figure out what you have in mind for design. We will take into account things like building type, colors, square footage, aesthetic, safety, and energy usage. From residential living to commercial installation, we cover it all. If you don't have a design in mind, that's ok!
Let our holiday light installation experts make some suggestions and you can choose which one you like! We also have a gallery of previous jobs so you can get a feel for what makes you happy. Taking the time out to ensure your satisfaction before the first light is hung is top priority. We don't want you to be unhappy once everything is finished so we spend a lot of time in this stage!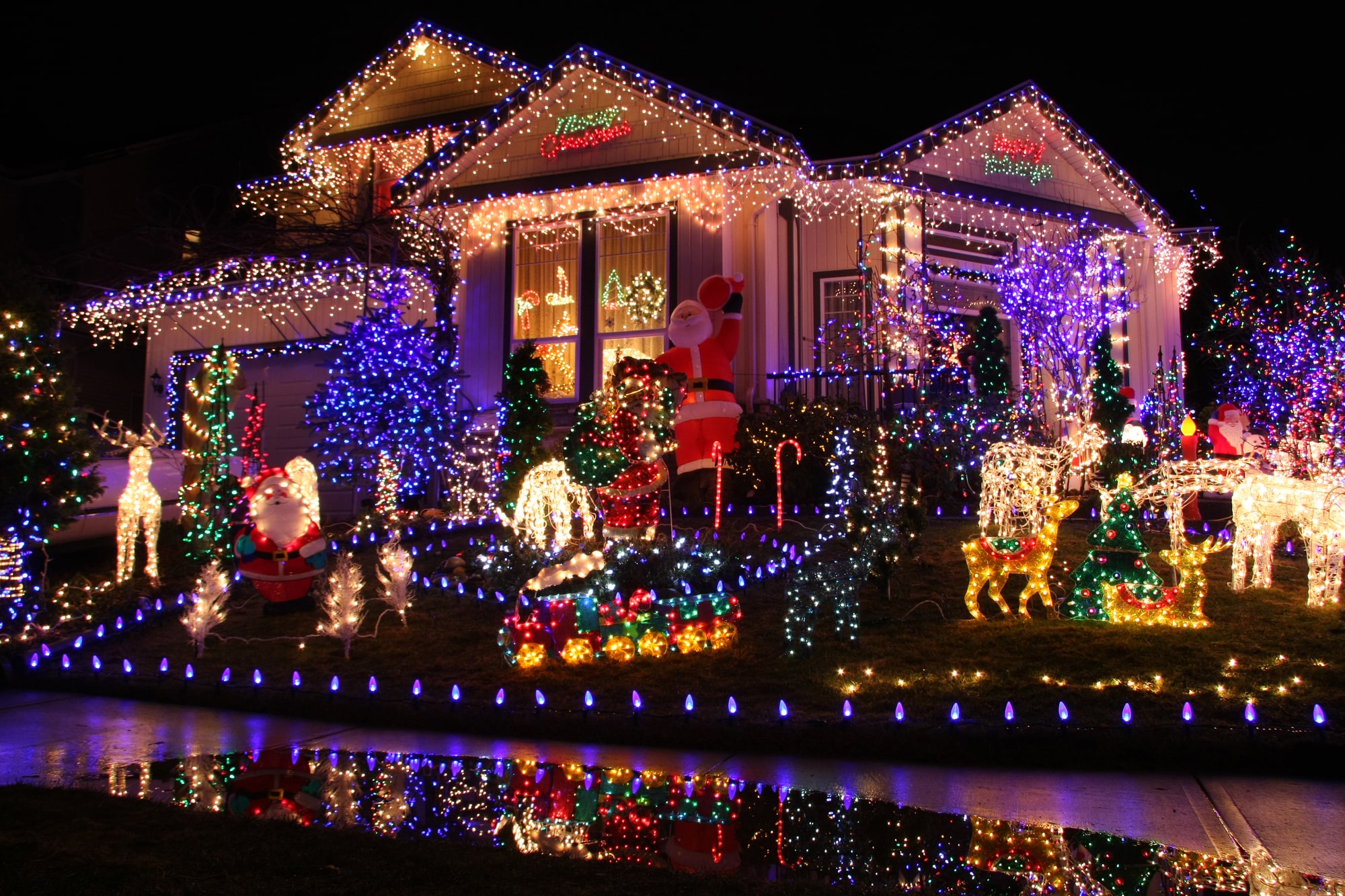 Installation
After the design is chosen and the details are worked out, it's time for installation! Our holiday light installers take the utmost care in stringing lights on your property. We will choose a time that's most convenient for you. Depending on the design that you choose we may have to install your holiday lights in different stages but we make sure to get this done in the most time efficient manner possible so that you can start to enjoy your holiday display as soon as possible!
 At Smart Wash we take safety very seriously! Hanging holiday lights can be tricky, especially in inclement winter weather and working in higher areas like along gutters or roofs. We also take your home and your safety into consideration as well. Our installers are trained to watch out for dangers that could cause problems like shortages and even fires. We make sure we all make it through the holidays safe and sound. 
We don't just install your lights and then leave it alone until takedown. Rather than let your display look unsightly with burned out bulbs and light strands, we offer a drive through inspection service to make sure that everything is still looking great. If we notice that something isn't working correctly or doesn't look right, we take the necessary steps to fix it!
Take Down
After the holiday season (which we hope was amazing!), our installers will come back out to your business or home and take your lights down. That's right, we even take care of you after the holiday season! We take care to operate in the same manner of safety and efficiency that we used to put them up months prior.
We make sure to get all of the lights and all of the debris. We also put outside items back where they were (or in a location of your choosing) before the installation if they had to be moved to accommodate your lighting design.
Finally, our installers will do an inspection of your property to make sure nothing was missed or damaged and that you're satisfied with your installation take down.
We also make sure that you are satisfied with the entire process and we learn what we can do differently to make sure you're even happier next holiday season!
Storage
Also after the holiday season, and your lights are taken down, we make sure that all of the lights and other decorations for your display are stored in a clean, cool, and dry place so that they stay safe and operational until the next season. All of our lights are carefully maintained and tested to ensure everything is in safe and working order. 
Here at Smart Wash we take pride in providing an excellent Christmas Light installation service from design all the way to storage. Let us take the stress out of your holiday season by doing one of the things for you that we do best!
Call
(443) 528-3152
Contact Us for a Free Estimate!
Cleaning Services We Provide
Brick

Decks

Houses
Roofs

Churches

Restaurants

Construction Site Clean Up

Power Washing

Soft Washing

Hospitality Cleaning

Hanging Christmas Lights