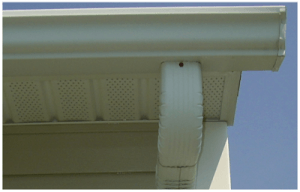 Anyone who has owned a home for more than probably a year realizes the importance of proper gutter cleaning. Your gutters are so important to keep clean because they need to function properly. Clogged gutters can lead to serious problems. Blocked water overspills and can cause stains and rusting.
Eventually, the weight and stain can become too much and your gutters are likely to break or collapse. In order to prevent that from happening it is important to let pros take care of keeping your gutters free from built up leaves and debris. One of the best methods you can use would be a professional power or soft wash to clean out your gutters.
Pressure Wash Your Exterior
Wondering why you need to hire a team of professionals to take care of your gutters?
DIY gutter cleaning can be extremely dangerous. Anytime you can avoid being on a ladder taking care of cleaning any part of your home, the better. Let trained experts handle that for you.
Even the cleaning you do accomplish won't be enough for long term cleaning and functionality. You need high pressure to really clean out down spouts and other nooks and crannies.
The pressure washer you rent yourself from the local location of the chain home improvements store is great for moving leaves around your driveway – not a heavy duty cleaning job like this.
Hiring pros should mean you get everything included, such as gutter trough, downspout and
gutter exterior cleaning.
Making the Right Choice
When you work with the right company you can also take advantage of other important residential and commercial cleaning services. In Great Falls, VA the obvious choice is Smart Wash. We offer other options for our customers such as:
Deck cleaning
Stucco cleaning
Brick cleaning
Rust removal
Siding cleaning
House washing
And so much more
Weather, debris, natural aging and so many other factors cause the need for keeping your exterior clean. These are not easy tasks to take care of on your own. Plus, you also need a team of experts who know which situations call for which type of cleaning processes. At Smart Wash we have the skill, training, tools and hands on experience to know how to address each situation.
Ready to get started? Contact us today and let our pros help you understand your options and help you make the best choice possible for your home or business today. When it comes to gutter cleaning and all aspects of your exterior, we have got you covered.