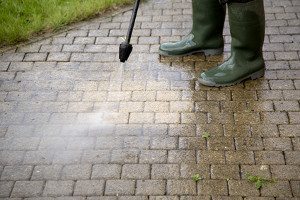 In order for your Alexandria property to function at its best, it is important that its exterior be well maintained. It is impossible for you and your family to enjoy your home to the utmost if your property is dirty and unsightly. Likewise, your commercial property will not promote the profitability of your business if its exterior is unprofessional. As such, you have a responsibility to keep your Alexandria property as clean as possible.
If you need assistance with this obligation, the best thing that you can do is hire a professionally experienced property cleaning contractor. In Alexandria, the most skillful exterior property cleaners are at Smart Wash. Their team has the knowledge and ability necessary to keep every portion of your home or business in the ultimate state of cleanliness. Here are a number of reasons why you should trust them with all your property cleaning needs.
Not All Surfaces Are Alike
When some people think about cleaning the exterior of a property, all they think they need to do is rent a power washer and go to town. This mindset, however, can lead to some major problems. Although power washing may be the best method to clean very durable surfaces like concrete, it can prove to be disastrous for other less resilient surfaces.
At Smart Wash, their exterior property cleaning experts know the best means to clean a wide variety of surfaces. They are adept at power washing and soft washing. When you hire them to clean your Alexandria home or business, their experts will inspect your property in order to customize all of their cleaning techniques to your unique needs. Every surface of your home or business will be cleaned in the most expert fashion so that no damage occurs to any part of your property.
Not All Stains Are The Same
In a similar vein as above, another important reason for you to hire a professional exterior property cleaning contractor is that they know the best methods to remove different types of stains. At Smart Wash, their Alexandria experts use different techniques to remove algae from roofing surfaces, oil from concrete driveways, gum from sidewalks, and graffiti from the sides of buildings.
By using a customized cleaning technique in every instance, their team ensures the best possible results. You and your family will once again be able to take pride in the look of your home. After their services, your business will present an image of professionalism to the local community. You are guaranteed to be completely satisfied.