Quality Stucco Cleaning Service in Alexandria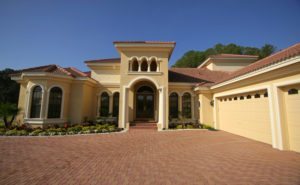 Stucco is a beautiful material for a building exterior. This decorative coating has a rich artistic value in that it lends texture to your home. That texture, while stunning, can get quite dirty over time. The creases in the material that make up its intricate decoration hold onto dirt and dust that then becomes baked on by the sun. We have solutions for your Stucco Cleaning needs.
If your stucco has started to darken or exhibit a dull quality, you need it cleaned by a professional. At Smart Wash we offer superior exterior cleaning services. Our staff is professionally trained to safely and effectively clean your stucco without damaging it. By using a combination of softwash solution and controlled water pressure we can restore your stucco to its original beauty in no time. That is why we are the number one choice for stucco cleaning service in Alexandria.
Stucco: Durable Yet Delicate
Stucco is a very hard and durable substance that has a fairly long lifespan. While it can withstand storm force winds, rain, snow and hail, using too much pressure from a pressure washer can damage it. That is why cleaning stucco should be performed by professionals like Smart Wash.
We have the proper tools to get the job done right. First, we'll mix a cleaning solution made from organic compounds that will safely dissolve the dirt and grime from your Stucco. Then, by using just enough water pressure we will effectively rinse your Stucco clean. This clean will go deep at the core of your Stucco so that it comes out pristine. Your exterior will look as good as the day it was installed.
The reason our methods are so effective is because we use a combination of techniques. Rather than simply take a power washer on full blast to your Stucco, we control the pressure based on the material. The goal is that we still want to get deep into the porous material but not damage it. By using a hand mixed cleaning solution we can ensure that the chemicals we're using are exactly right for the job.
When you need your Stucco home cleaned, Smart Wash does the most effective and efficient job in Alexandria.
Our Alexandria Stucco Cleaning Specialists Provide the Following Services
Stucco Softwashing
Stucco Power Washing
Stucco Deep Cleaning
Recent Articles
"Will Use Them Again"

Brian and his crew at Smart Wash were outstanding! They were professional, friendly, and highly skilled. Our house looks brand new! They took the utmost care treating our home like it was their own. We are extremely pleased and will use them again in the future. https://goo.gl/jIthni

Read More
Commercial Pressure Washing & Code Compliance

Pressure washing should be one of the simplest ways to achieve code compliance. And with expertise from the right experts, you can keep your property – and everyone who visits it – safe and happy. Slip and Fall Prevention Every year, scores of people check in to the emergency room because of slip and fall...

Read More
If you are looking for Stucco Cleaning in Alexandria then please call 703-595-4000 or complete our online request form.