Hospitality Cleaning Conducted by Alexandria Power Washing Experts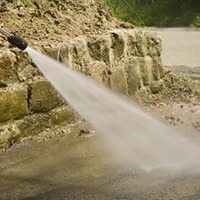 At Smart Wash, our highly skilled power washing and soft washing professionals have the ability to handle the most extensive cleaning tasks. Our team is adept at large scale exterior cleaning services including hospitality cleaning. In everything we do, our goal is to provide our customers with the highest quality services in order to maximize their satisfaction.
Call Smart Wash today if you need to hire a professional soft washing and power washing contractor to conduct hospitality cleaning services in Alexandria. Our courteous and polite staff would be happy to assist you in any way that we can. We can clean every exterior surface of your hotel or motel. Our hospitality cleaning experts would be glad to answer any questions that you may have about your prospective cleaning project or our exceptionally performed services. We can schedule your appointment today.
Hospitality Cleaning Improves the Professional Image of Your Hotel
In order for your hotel or motel to be as profitable as possible, it is important for your Alexandria property to be properly maintained. One of the most critical things that you must maintain is the cleanliness of your hotel or motel's exterior. If the outside of your hospitality property is dirty or dingy, your business will suffer greatly.
At Smart Wash, our Alexandria power washing and soft washing contractors have the ability to help your hotel or motel attract more customers. We can clean every portion of your hospitality property's exterior. As such, when your property looks professionally maintained, you will be certain to make the best first impression with your prospective customers. By helping you make your hotel or motel more profitable, our hospitality cleaning services are guaranteed to satisfy.
Hospitality Cleaners Adept at Cleaning Every Type of Surface
One of the most difficult things about hospitality cleaning is the fact that there are so many different surface types involved. In order to clean the exterior of a hotel, one needs to have an array of different cleaning methods. At Smart Wash, our cleaning contractors have the ability to help you clean every portion of your hotel or motel.
Our power washers are highly skilled at cleaning pool decks, driveways, and patios. Our Alexandria soft washers can clean the roof of your property in the most delicate fashion possible. When you hire Smart Wash for your hospitality cleaning needs, you can rest assured knowing that your property will look amazing and that every portion of your hotel will be pristine.
Our Alexandria Commercial Exterior Cleaning Experts Provide the Following Services
Commercial Roof Washing
Walkway Cleaning
Brick Washing
Rust Removal
Parking Lot Washing
Garage Washing
Regular Wash Maintenance
Recent Articles
The Value of Curb Appeal

Good relationships stand at the crux of any successful commercial property. And one important way to create – and sustain – those relationships comes from investing in your first impression. When you invest in curb appeal, you invest in your property. Consider the evidence: Curb appeal increases property value. When you take care...

Read More
Certifications, Insurance & Associations

When it comes to property maintenance, you truly can have it all. It just comes down to choosing a company that you can trust. That's where Smart Wash can help. Our exterior cleaning solutions protect your investment – and they make your home or business a source of pride. Your Property Maintenance Experts We believe...

Read More
If you need to hire a professional power washing and soft washing contractor in Alexandria to provide hospitality cleaning services, call Smart Wash today at 703-595-4000, or fill out our online request form.