Restore Your Alexandria Deck With Quality Deck Cleaning Services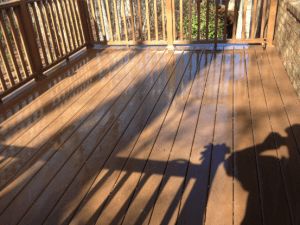 Many decks in Alexandria are made of wood. The type of wood used and quality of construction will determine its durability. Regardless of this, however, over time wood decks turn grey and darken with age. As grime sets in and mildew builds up the discoloration turns your beautiful wood deck dull and drab. While your deck may look like it has one foot in the grave, you don't have to build a new one.
At Smart Wash we offer thorough and comprehensive deck cleaning. We use a combination of controlled pressure water and organic compound solutions to cut right through the mildew and grime and expose the pristine wood underneath. Our deck cleaning specialists are professionally trained and possess the skills and tools necessary to get the job done right and fast. That is why we are the number one choice for Alexandria deck cleaning.
We can bring old wood decks back to life without damaging the fibers. Our techniques are safe for your wood, so it preserves every bit of strength and durability inherent in your deck. Because our cleaning methods protect your deck's structural integrity, the restoration lasts years longer than simply pressure washing. So no matter whether you have a treated timber deck or a delicate exotic wood deck, we can get it clean safely and effectively.
Is Deck Cleaning Only for Wood Decks?
If you have a composite deck that needs to be cleaned please call us. These products have been marketed and sold for years as "maintenance free" when they really aren't. Most composite decking manufacturers add "wood flour" in their boards for weight. This eventually becomes a food source for molds and mildews. It is the reason your "maintenance free" deck needs to be cleaned. Blasting away with a pressure washer won't really solve the problem either. Our specialized method of controlled pressure and cleaning solutions is guaranteed to get your deck in pristine shape.
If you need proof, we'll gladly come out and test a single spot on your deck. Let us show you how our deck cleaning method can restore your deck and make it look as good as the day it was built.


Our Alexandria Deck Cleaning Specialists Provide the Following Services
Wood Deck Cleaning
Composite Deck Cleaning
Deck Restoration
Recent Articles
What Does It Mean to be "Soft Wash Certified?"

Exterior cleaning shouldn't be a band-aid solution. They should have staying power – and they should be able to yield high-level quality that you can rely on. We Set Your Property Up for Success This is why every member of the Smart Wash team invests in training and professional development. This ensures that we are:...

Read More
If you are looking for Alexandria Deck Cleaning then please call 703-595-4000 or complete our online request form.