Construction Cleanup Conducted by Alexandria Power Washing Professionals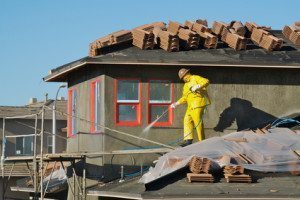 At Smart Wash, our Alexandria power washing and soft washing contractors proudly provide the highest quality cleaning services in the local area. Our highly skilled team is immensely experienced at all manners of commercial property cleaning. We are called upon routinely to conduct restaurant cleanings, church cleanings, and hospitality cleaning. In addition, our professionals can assist you with all of your construction site cleanup needs.
In every service that we undertake, our Alexandria commercial property cleaners seek to provide our customers with the highest quality services possible. In this way, we can help you improve the state of your business. By cleaning your commercial property in the best fashion, our services improve the impression your business gives off to the community. Our commercial cleaning contractors can help you at all stages of your property's life, starting at construction cleanup.
Call Smart Wash today if you need to hire a professional soft washing or power washing contractor to assist you with construction cleanup services in Alexandria. Our courteous and polite staff would be happy to help you in any way that we can. Our experts can answer any questions that you may have about your construction site cleaning needs or our exceptional services. Our team would be happy to schedule your appointment today.
Construction Site Cleanup Is Essential to A Successful Project
After you have completed the construction of your Alexandria property, it is important for you to take the time to clean up the area. If your new property is dirty and covered in grit, it will not be able to function in the best fashion possible. Having a new commercial property is a great way to make a positive first impression with potential customers and clients. If your new property is unsightly, you are missing this opportunity.
At Smart Wash, our commercial construction cleanup professionals have the knowledge, skill, experience, and methods to make your new Alexandria property look its best. Our team can easily remove dust and dirt and other accumulation from all the surfaces of your property. Our construction cleanup crew can also use very thorough methods to life hard to deal with stains like rust and oil based stains.
In the end, after our construction clean up services, you will be able to make the most of your new Alexandria property. Because you will have received the highest quality services, you will know that you can always trust our exterior property cleaners with all of your future needs.
Our Alexandria Commercial Exterior Cleaning Experts Provide the Following Services
Commercial Roof Washing
Walkway Cleaning
Brick Washing
Rust Removal
Parking Lot Washing
Garage Washing
Regular Wash Maintenance
Recent Articles
Commercial Pressure Washing & Code Compliance

Pressure washing should be one of the simplest ways to achieve code compliance. And with expertise from the right experts, you can keep your property – and everyone who visits it – safe and happy. Slip and Fall Prevention Every year, scores of people check in to the emergency room because of slip and fall...

Read More
If you need to hire a professional power washing or soft washing contractor in Alexandria to conduct construction cleanup services, call Smart Wash at 703-595-4000, or fill out our online request form.