The Best Commercial Exterior Cleaning Services in Alexandria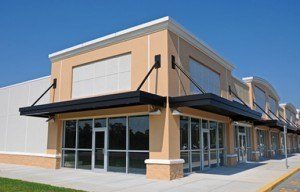 If you run a business in Alexandria then you understand that the exterior appearance of your building is an extremely important aspect. First impressions are crucial, especially when your bottom line is involved. The last thing you want is to lose customers to your competition just because your exterior is dirty and unkempt. That is why Smart Wash offers commercial exterior cleaning services.
Our cleaning technicians are professionally trained and possess the skills and tools necessary to thoroughly wash and effectively deep clean any surface. By using a combination of specialized equipment and hand mixed cleaning solutions we can cater to the unique needs of your individual business. We get to the root of your dirty problem and deeply clean your surfaces, restoring them to a pristine and presentable state. That is why we are the number one choice among businesses in Alexandria for commercial cleaning services.
What Smart Wash Can Do For Your Business
At Smart Wash we offer softwashing and power washing services that clean all of your surfaces. We wash concrete, asphalt, brick, wood, stucco, siding and any other building material. We can safely clean your roof, siding, building exterior, parking lot, walkways and all other exterior aspects without damaging any part of it.
We don't use sandblasters or acid, but instead powerful cleaning solutions that are safe and controlled water pressure. By mixing our cleaning solutions we are able to manipulate their concentration for the perfect clean for a particular surface. We also control the amount of pressure used in our pressure washers so that the water washes deep into the pores of the material without causing any damage.
Whether your parking lot suffers from unsightly grease spots or your garage has rust stains, we can get the job done. From front walkways to your awnings, we can get every aspect of your building as clean as the day it was installed. Don't lose business because of unsightly stains. Call us today!
Our Alexandria Commercial Exterior Cleaning Experts Provide the Following Services
Commercial Roof Washing
Walkway Cleaning
Brick Washing
Rust Removal
Parking Lot Washing
Garage Washing
Regular Wash Maintenance
Recent Articles
Boost Property Value with Siding Cleaning

Property managers are faced with a near-impossible task: Ensure that tenants happy to call your property home, protect property value, and attract future residents. And your siding is a big part of that first impression. Here's the good news. You have support! Smart Wash is proud to bring out the best in your apartment complex,...

Read More
A Healthy Home

By Dr. Victor H. Morgenrot Dr. Morgenroth is a semi-retired, adjunct professor of neurology at UM. He was a principal administrator in the Environment Health and Safety Division of the Organization for Economic Cooperation and Development (OECD) for 20 years; prior to that I was a Group Leader in the Toxicology Division at the Center...

Read More
If you are looking for Alexandria Commercial Cleaning Services then please call 703-595-4000 or complete our online request form.