Effective Softwashing in Alexandria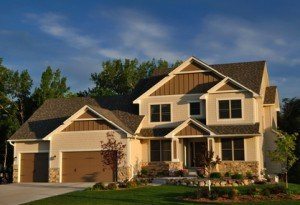 Soft-washing is a cleaning process which utilizes low pressure combined with a custom cleaning solution, specially blended to meet the demands of each project. It differs from pressure washing in that the cleaning solution is applied without the use of pressurized water, so it will not harm or damage painted surfaces, shingles, wood, or vinyl siding.
At Smart Wash we stay on the cutting edge of exterior cleaning products and techniques. The power of chemistry is what makes our soft-wash process so effective. Different surfaces and different contaminants require different levels of softwashing solution. With each cleaning job we perform, our cleaning solution is custom mixed on site and applied. We do not have a "one size fits all" approach to cleaning your exterior. We will customize a cleaning plan to maximize effectiveness while also keeping your cost as low as possible! That is why we are the number one choice in Alexandria for softwashing services.
Cleaning Your Roof With Softwashing
Have you noticed dark stains on your roof? Those stains are a strain of algae spores called Gloeocapsa Magma. It's feeding on the limestone in your roofing shingles. The spores are carried through the air from roof to roof and create dark spots and streaks in entire neighborhoods. Roof algae, along with moss and lichen, darken your roof and reduce the life span your shingles.
Roofs that were sold with a "25 year life span" are being replaced in as little as 12-15 years simply because of cosmetics. In fact, up to 50% of the roofs in the Metro Washington area are replaced unnecessarily! While this might be great for roofing companies, all these roofs need is to be cleaned. We are trying to get the word out. Don't waste your money on a new roof just because of stains and appearance. In just one day, we can have your roof looking brand new. And for just a fraction of the costs of a new roof!
The greater Washington Area has become saturated with roof-staining algae. We have the solution. Our softwash system is approved by ARMA, (the Asphalt Shingle Manufacturer Association). We do more than brighten your roof and remove the unsightly stains; we completely kill the algae at the root. That way your roof is not only cosmetically improved, but it is also safe from slowly deteriorating at the hands of biological agents.



Advantages to softwashing your roof with Smart Wash:
Increase Roof Life
Save Thousands Over Replacement
Improved Curb Appeal
Lower Utility Costs
Maintain Your Home's Value
It's Manufacturer Recommended
5 Year Limited Stain Free Warranty
Reduces Allergens Around Home
Our Alexandria Softwashing Experts Provide the Following Services
Softwash Roofing
Softwash Siding
Softwash Painted Surfaces
Softwash Wood
Custom Softwash Solution for Every Job
Recent Articles
Certifications, Insurance & Associations

When it comes to property maintenance, you truly can have it all. It just comes down to choosing a company that you can trust. That's where Smart Wash can help. Our exterior cleaning solutions protect your investment – and they make your home or business a source of pride. Your Property Maintenance Experts We believe...

Read More
A Healthy Home

By Dr. Victor H. Morgenrot Dr. Morgenroth is a semi-retired, adjunct professor of neurology at UM. He was a principal administrator in the Environment Health and Safety Division of the Organization for Economic Cooperation and Development (OECD) for 20 years; prior to that I was a Group Leader in the Toxicology Division at the Center...

Read More
If you are looking for Alexandria Softwashing specialist then please call 703-595-4000 or complete our online request form.