Professional Power Washing That Protects Your Alexandria Property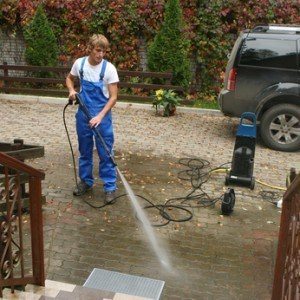 Many building materials are hard and therefore tough to clean. When difficult stains set into those materials it can be a real challenge to wash. To address this issue tools were made that eject highly pressurized water (Power Washing) to cut through the stain even in a strong material.
Smart Wash offers Alexandria home and business owners quality power washing for their toughest stains. With the power of high pressured water, we can peel away layers of grime, washout porous material and cut right through and dissolve any stain from your solid surfaces. Our power washing technicians are professionally trained and skilled in administering a safe and effective wash every time. That is why we are the top choice in the Alexandria area for power washing services.
Why Hire a Power Wash Professional?
While power washing equipment is available for rent or sale, it is always best to take on exterior cleaning with the help of a trained professional. This is because proper training ensures the equipment is used in the right way, protecting yourself and your property. Skillful use of high pressured water can yield amazing results, but these water jets are powerful and can be dangerous. When you call on the experts at Smart Wash you avoid doing damage to yourself or your building.
When we set out to clean your exterior, you will be amazed at how pristine we are able to get your surfaces. Without chipping or damaging your materials we can strip away every ounce of grime and dirt to reveal a shining surface underneath. We make concrete and brick look as new as the day it was built. Revitalize your building's exterior and restore its beauty with power washing from Smart Wash.
Not only will you improve curb appeal you'll also feel better about your surroundings. Cleanliness has the inherent ability to make people feel more comfortable. When you have a glimmering driveway or exterior walls, you know your building is representing you well.
At Smart Wash we work hard to offer the most powerful pressure washing available in Alexandria. Our power washing can get rid of any stain; from rust to set in oil, mildew, paint and more. Whether you have rusted paint can rings all over your patio or your garage is riddled with unsightly oil stains, Smart Wash can get it clean.
Our Alexandria Power Washing Experts Provide the Following Services
Driveway Power Washing
House Power Washing
Walkway Power Washing
Parking Lot Power Washing
Recent Articles
"Will Use Them Again"

Brian and his crew at Smart Wash were outstanding! They were professional, friendly, and highly skilled. Our house looks brand new! They took the utmost care treating our home like it was their own. We are extremely pleased and will use them again in the future. https://goo.gl/jIthni

Read More
3 Quick Tips for Better Curb Appeal

"It's the little things" might be one of the most overused phrases out there, but in this case, it's for good reason. Small things add up to make a big difference for any property. Integrate these quick tips into your exterior maintenance plan to elevate your curb appeal to the next level: Manage your landscaping...

Read More
If you are looking for Alexandria Power Washing Services then please call 703-595-4000 or complete our online request form.