The Number One Concrete Cleaning Experts in Alexandria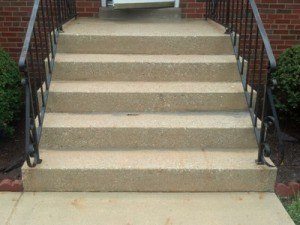 Most buildings have elements that are made of concrete; driveways, pathways, patios, porches, stairs and so many more. Concrete is a fantastic building material as it can be molded into just about anything. When it hardens, however, it is unyielding. This only becomes a problem when a stain seeps its way into the concrete's pores. Things like rust, oil, paint, grease or many others seem to permanently embed themselves into your concrete structure.
If your home or business suffers from dirty concrete sullying your exterior image, Smart Wash has the solution. We are professional exterior cleaners with an expertise in cleaning concrete. Our specialized equipment and cleaning solutions can soak deep into the porous concrete and then cut right through the stain. Our concrete cleaning technicians are highly skilled and can promptly restore your concrete to a glimmering clean. That is why we are the number one concrete cleaners in Alexandria.
Concrete Cleaning That Works
By using powerful cleaning solutions and high pressured water, we not only remove stains but also years of grime buildup. As dust, dirt and other particles constantly wash over your concrete, it gets absorbed and causes a dull grey to set in. Our effective concrete cleaning methods dissolve all of that and then force it out of the concrete with a high powered deluge of water.
No matter what stains you suffer from; whether it is rust rings on your patio, grease spots in your garage, oil stains on your driveway or dried paint, we can get it out. When Smart Wash gets done cleaning your concrete it will shine like the day it was poured.
Your driveway will be gleaming white again. Your garage will look clean and less grimy. Your walkways will be inviting and pristine, representing your home the way it should be. When you need your concrete cleaned right, call the experts at Smart Wash.



Our Alexandria Concrete Cleaning Specialists Provide the Following Services
Power Washing
Softwashing
Residential Concrete Cleaning
Commercial Property Cleaning
Recent Articles
Certifications, Insurance & Associations

When it comes to property maintenance, you truly can have it all. It just comes down to choosing a company that you can trust. That's where Smart Wash can help. Our exterior cleaning solutions protect your investment – and they make your home or business a source of pride. Your Property Maintenance Experts We believe...

Read More
The Value of Curb Appeal

Good relationships stand at the crux of any successful commercial property. And one important way to create – and sustain – those relationships comes from investing in your first impression. When you invest in curb appeal, you invest in your property. Consider the evidence: Curb appeal increases property value. When you take care...

Read More
If you are looking for Concrete Cleaning Services in Alexandria then please call 703-595-4000 or complete our online request form.