About Your Leading Pressure Washing Professionals in Alexandria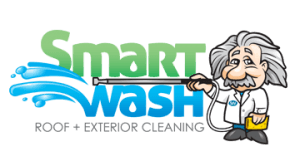 Your building's exterior is a vital component to your entire design. It is the face of your property and presents you, your character and living atmosphere to the world. For that reason it is necessary to keep it clean and presentable, however this can be challenging at times. Your exterior comes in contact constantly with forces that are intent on deteriorating and soiling it. From the baking sun to the tumultuous wind, rain, hail, snow, debris and everything in between, your exterior is the victim of a constant barrage.
That is why Smart Wash offers soft-washing and pressure washing services. We understand the importance of keeping up the appearance of your home or office building as well as keeping it healthy and preventing biological invaders. Our skilled staff is professionally trained and possesses the proper tools and knowledge to use them to get any exterior surface clean. That is what makes us the top choice in Alexandria for pressure washing services.
At Smart Wash we are committed to offering the highest quality and safest clean available. You cannot use pressured water to clean any surface. Some surfaces are more delicate and could be damaged by high pressure. In these instances it takes a carefully concocted solution of organic compounds made specifically for the material, climate and individual instance. That way the surface is protected and thoroughly cleaned.
When you need your roof, siding, driveway, walkways or deck restored to a pristine shine, Smart Wash are the experts to call.
What Alexandria Residents Are Saying About Us
"Great job! Our sidewalks look new, the roof shines, and the siding is spotless. Very highly recommended and we'll use them again."
– Donna Zerbato
Associations & Certifications
Registered with AsktheSeal.com
Member of the United Association of Mobile Contract Cleaners
SoftWash Systems Certified
Authorized F9 Applicator
Recent Articles
Commercial Pressure Washing Made Simple

Skip the phone numbers, the laundry list of property maintenance experts, and the logistical nightmares. Exterior cleaning is simplified when one pressure washing company can guide the process. Our team is proud to provide pressure washing solutions that make your property shine. One Expert, Endless Solutions Smart Wash designed our exterior cleaning menu...

Read More
Boost Property Value with Siding Cleaning

Property managers are faced with a near-impossible task: Ensure that tenants happy to call your property home, protect property value, and attract future residents. And your siding is a big part of that first impression. Here's the good news. You have support! Smart Wash is proud to bring out the best in your apartment complex,...

Read More
If you are looking for more information about a softwashing or power washing specialist in Alexandria then please call 703-595-4000 or complete our online request form.