The Best Siding Cleaning Experts in Alexandria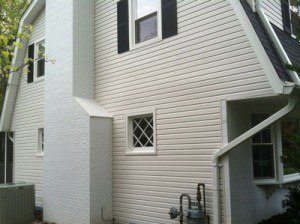 Siding is a very popular exterior element for many homes in Alexandria. Siding offers a durable, protective and low maintenance exterior addition to your home. While most siding is fairly low maintenance, it will need cleaning on occasion. Being exposed to the elements day in and day out will result in dirt, dust particles and other things sticking to moisture on your siding and then being baked on by the sun.
If your siding is in need of cleaning, get it done the right way with Smart Wash. We specialize in exterior cleaning and we have an effective method for addressing the unique properties of different materials. By using a combination of high pressured water and cleaning solutions specifically mixed for each job, we can safely get your siding looking as good as new. That is why we are the number one choice for siding cleaning service in Alexandria.
The Importance of Proper Siding Maintenance
While your siding may not need to be repainted every five years, it is important to keep it clean. Heavy rainfall and other precipitation can lead to dirt and dust being caked onto your siding. That grime is not only unsightly, but also can harbor moisture which is a prime breeding ground for mold and mildew. The solution to this problem is cleaning, but you can't just point a pressure washer at it and be done with it. Improper cleaning can lead to water infiltration between your siding boards, which will cause mold growth UNDERNEATH the siding. This is not good.
At Smart Wash we have specially trained exterior washing experts that know how to use the tools and solutions necessary to get your siding clean. We know the proper level of water pressure to use, how to angle the washer, what type of solution to use, how long to let it set in and all of the other nuanced details involved with safely and properly cleaning your home's exterior.
We can also clean all types of siding; vinyl, fiber cement, wood siding, fiberglass, hardboard composite and more. No matter what you choose to make your home beautiful, when you need it cleaned, Smart Wash can get the job done.



Our Alexandria Siding Cleaning Experts Provide the Following Services
Controlled Water Pressure Cleaning
Softwashing
Vinyl Siding Cleaning
Fiber Cement Cleaning
Hardboard Composite Cleaning
Recent Articles
Certified!

When it comes to property maintenance, you truly can have it all. It just comes down to choosing a company that you can trust. That's where Smart Wash can help. Our exterior cleaning solutions protect your investment – and they make your home or business a source of pride. http://bit.ly/2l0bovA

Read More
Your building's exterior is a vital component to your entire design. It is the face of your property and presents you, your character and living atmosphere to the world. For that reason it is necessary to keep it clean and presentable, however this can be challenging at times. Your exterior comes in contact constantly with...

Read More
If you are looking for Alexandria Siding Cleaning Contractor then please call 703-595-4000 or complete our online request form.