Top Brick Cleaning Experts in Alexandria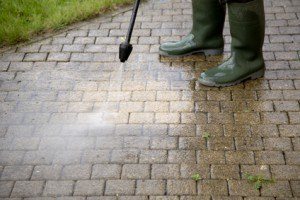 Many people enjoy the unique look of brick in their home. Brick adds a classic color and texture and provides a sturdy and durable building material for your most precious asset. Like many other materials constantly exposed to the elements however, over time it will accumulate mold and algae growth. One way that many have approached cleaning brick is by using sandblasting or acid. These are ineffective, however and will also damage your brick.
The most effective way to get your brick clean safely is by hiring the brick cleaning experts at Smart Wash. We specialize in exterior cleaning and we have the proper tools and training to restore your brick to pristine beauty. Our skilled technicians will have your brick looking as new as the day they were laid. That is why we are the preferred choice in Alexandria for brick cleaning service.
The Proper Way to Clean Your Bricks
By using powerful cleaning solutions Smart Wash dissolves the algae and mildew buildup on your brick. Then, using controlled pressure from a power washer we get deep into the pores of the mortar and wash out the grime. Our technicians are steady and skilled, trained not to damage your brick. You don't have to worry about chipping of the brick or the mortar when we clean your exterior.
Our careful and effective brick cleaning technique will restore the vibrant color of your brick quickly and efficiently. Not only with the brick look brand new, but the grey discoloration of the mortar will also be removed.
Is your home starting to look drab and overrun by algae growth? You can make it look like you just bought it with brick cleaning services from Smart Wash. We will also get your patio clean, chimney, paver walkways or any other brick surfaces. If you need your brick cleaned, call Smart Wash today.
Our Alexandria Brick Cleaning Professionals Provide the Following Services
Brick House Cleaning
Brick Stair Cleaning
Chimney Cleaning
Paver Cleaning
Recent Articles
Commercial Pressure Washing Made Simple

Skip the phone numbers, the laundry list of property maintenance experts, and the logistical nightmares. Exterior cleaning is simplified when one pressure washing company can guide the process. Our team is proud to provide pressure washing solutions that make your property shine. One Expert, Endless Solutions Smart Wash designed our exterior cleaning menu...

Read More
Fight Back Against Roof Stains

If your roof is getting the professional soft washing care it deserves, it will slip seamlessly into the curb appeal of your property. But then there's the alternative. If you can't remember the last time you've scheduled a roof cleaning service, you're probably seeing some eyesores popping up on your shingles: Black streaks This is...

Read More
If you are looking for Brick Cleaning specialist in Alexandria then please call 703-595-4000 or complete our online request form.